Shoreview Seeks Rice Street Crossings Development Proposals Now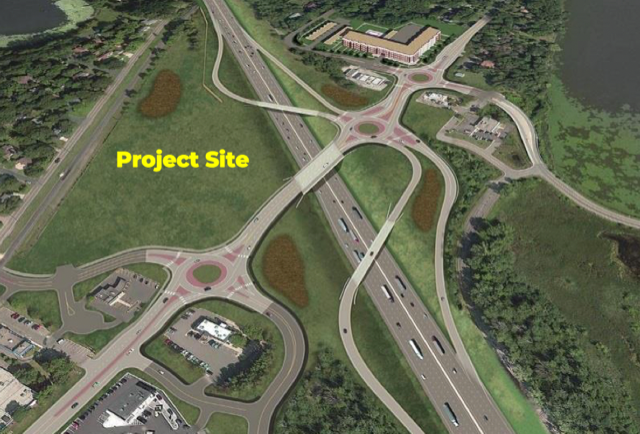 Developers interested in being part of the vibrant, thriving community of Shoreview, MN, have the perfect opportunity at a highly visible and strategic location in the city. The City of Shoreview is seeking proposals from qualified developers to purchase and redevelop a 10.99-acre parcel at 3377 Rice Street, conveniently located off the Interstate 694 exit at Rice Street.
The City of Shoreview is seeking an innovative developer to create a significant new development on the site, thereby adding interest, real estate value and continuing economic growth. As the City's vision for the property emerges, it seeks a developer who can partner to develop potential site uses, such as a business park, corporate offices, retail/commercial space and multifamily housing.
Site Attributes
The Rice Street Crossing redevelopment project site is owned by the City of Shoreview in Ramsey County. It is located at the southwest quadrant of Interstate 694 and Rice Street and the confluence of Little Canada, Shoreview and Vadnais Heights. The location offers significant visibility to residents of all three communities and the traffic frequenting Interstate 694.
Complete RFIQ details can be found on the City of Shoreview Economic Development website, including:
Phase 1 Environmental Site Assessment
June 30, 2021 Site Investigation Report
December 29, 2021 Additional Site Investigation Report
Site Background
The immediate area surrounding the parcel is part of a transformation with the completed reconstruction and redesign of the bridge/interchange, significantly improving safety, access, and traffic flow through this major corridor. The three cities of Little Canada, Shoreview and Vadnais Heights have planned and implemented redevelopment around the interchange to replace obsolete or blighted commercial properties with higher density housing and newer retail services. One example is the new McMillan Apartments and Townhomes, higher-end multifamily housing and luxury townhomes. The property, across Interstate 694 from the Rice Street Crossings site, also includes the popular Oliver's restaurant. The City of Shoreview helped facilitate the redevelopment of the site, which had been an older commercial strip center and adjacent substandard homes.
The city-owned Rice Street Crossing site affords another unique opportunity for Shoreview to partner with a selected developer to continue with the transformation of the interchange with a high-quality redevelopment that meets our objectives and best serves the community.
Shoreview Advantages
Shoreview is a thriving suburban city with an excellent mix of outdoor amenities with urban appeal. Businesses choose Shoreview for its proximity to the downtown centers of Minneapolis and St. Paul, as well as the Minneapolis/St. Paul International Airport. Interstate 694 and 35W offer access to a large pool of potential employees and customers.
Residents love Shoreview for its outdoor amenities, urban proximity and high-quality education. Just ten minutes to downtown Minneapolis and Saint Paul, Shoreview consistently receives some of the highest quality of life rankings in the Twin Cities region. Family Circle Magazine has named it one of the "Ten Best Towns in America to Raise a Family." Two public school districts serve Shoreview - Mounds View School District and the Roseville School District, whose high schools are consistently recognized for their programming nationally.
Please contact the City of Shoreview Economic Development department for further information regarding the Rice Street Crossings RFIQ or other questions specific to Shoreview.
Proposals from interested developers to the Request for Interest & Qualifications (RFIQ) are due no later than 4:30 p.m. on September 9, 2022. One digital copy of the proposal should be emailed to:
Tom Simonson
Community Development Director
City of Shoreview
4600 Victoria Street North
Shoreview, MN 55126