Location, Amenities Highlight Shoreview Living
Today's young professionals want to live close to their place of employment yet have immediate access to quality amenities of an active lifestyle. They value proximity to outdoor opportunities in green spaces, like biking paths and pristine lakes, from accommodations with community living, either in their immediate surroundings or from a quick transit to nearby urban downtown cores.
Shoreview checks the boxes in all those regards. The city has over 1,400 acres of green space, 11 lakes, 15 parks and 60 miles of multi-use trails. Shoreview was the first Minnesota city named by the League of American Bicyclists as a "Bicycle-Friendly Community."
The city sits amidst a wide selection of Fortune 500 company headquarters and operations, like Boston Scientific, Cummins and Land O'Lakes. With I-694 bisecting the city, Shoreview residents can reach the urban centers of Minneapolis and St. Paul via a short fifteen-minute drive or Uber trip.
The resulting combination of work and living attributes has led real estate developers to bring several quality living options to Shoreview over the past few years.
"Young professionals who can live anywhere choose Shoreview because it offers excellent community amenities with a perfect location," said Elwyn Tinklenberg, an owner representative with JPL Development.
Emrik SV & Loden SV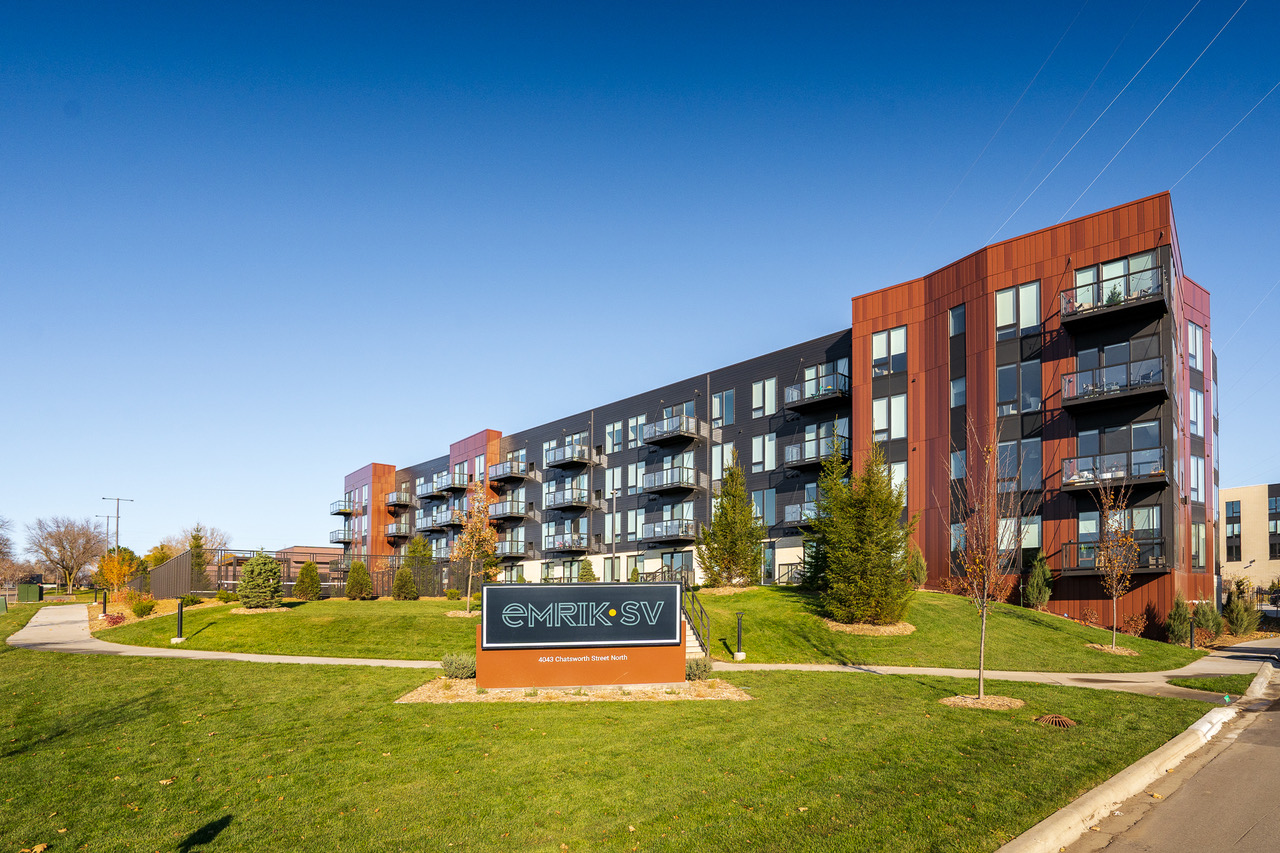 Greco and Eagle Ridge Partners are two local real estate firms from Minneapolis that have worked independently in the surrounding Twin Cities communities for years. Starting in 2016, they worked together to redevelop a shuttered former company headquarters in Shoreview which had sat vacant for nearly a decade. The team believed the site would be perfect for housing constructed to appeal to those embracing a wellness-centric lifestyle building off Shoreview's commitment to outdoor amenities.
By 2018, the development team of Greco and Eagle Ridge Partners opened Loden SV and then the Emrik SV at the end of 2021, each approximately 200 multi-family apartment sister buildings with similar reversing exterior color palettes.
"Working with Shoreview has been a fantastic experience," said Josh Brandsted, President of Greco. "They understand the development challenges and do not red tape developers to death."
Tenants at Loden SV and Emrik SV are quite a mixture of demographics, said Brandsted, with more families than much of Greco's portfolio. Young professionals enjoy the properties because they need to be transient as their careers take shape.
"Perhaps 30% of our tenants are from Shoreview, moving out and scaling back from their single-family homes," he said. "But they want to stay in Shoreview because they know the city has pride in the upkeep of the community, investing in maintaining the properties, investing in beautiful parks and other amenities."
The Edison at Rice Creek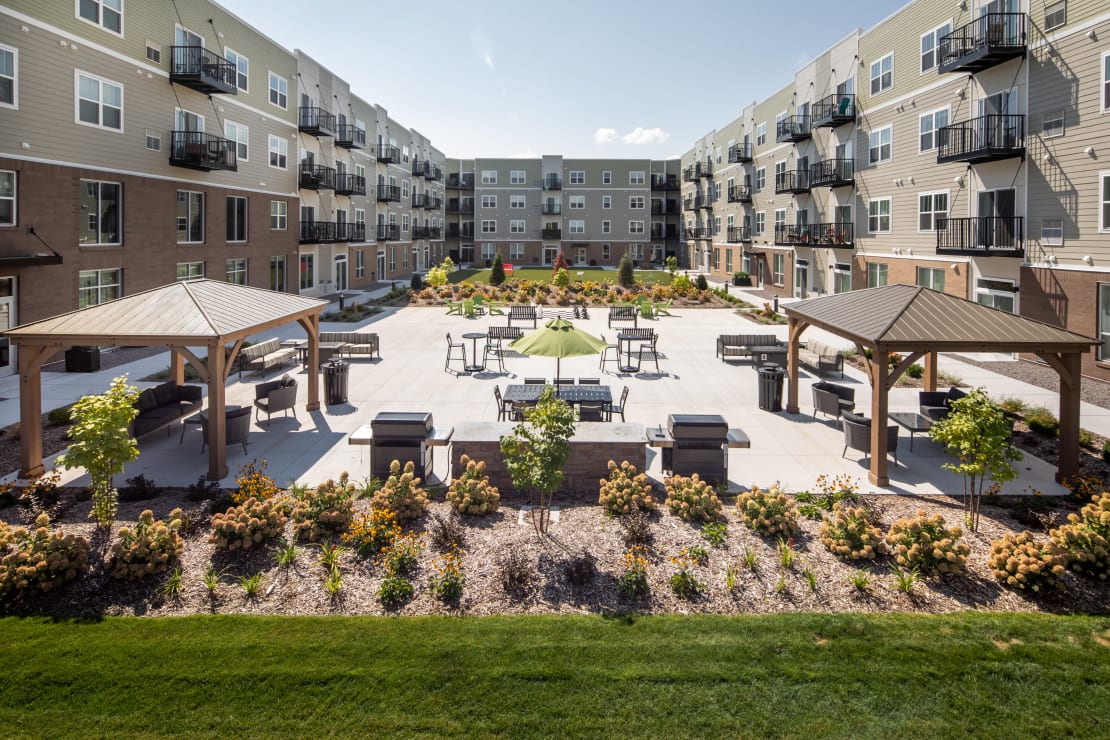 Several years ago, JPL Development identified Shoreview as a strong market with significant housing demand, perfect for one of its projects. Tinklenberg, who lives in the region and is a past mayor of the City of Blaine, knew Shoreview was an attractive location, with a terrific community and stable leadership. But he was unsure if the City had the capacity to review a large-scale project.
"I discovered the City of Shoreview is led by a very professional staff, extremely capable and interested in assisting development," he said. "They kept The Edison project moving with open communication, being extremely cooperative and thorough throughout."
As a result, The Edison at Rice Creek, a complex of luxurious townhomes, carriage homes, and brand-new apartments, is taking shape in Shoreview. The first phase, completed in 2020, included 150 apartments, 52 townhomes and eight carriage homes. The second phase in 2022 will have another 150-unit apartment building and six carriage homes. A final third phase will include another 33 townhomes and carriage homes.
"JPL builds to operate, not to sell, so construction quality is very high, delivering durable living facilities with fewer problems for tenants," said Tinklenberg. "The result is a very high renewal rate among existing clients with a waiting list for those wanting to live at The Edison."
The Edison also has a remarkable mix of tenants, said Tinklenberg.
"We see renters downsizing out of their primary homes or needing a place to come back to Minnesota," he said. "Many ages and professions choose to rent but want to take advantage of the amenities provided by the chain of trails near Rice Creek that offers year-round use for biking, hiking, jogging, walking and cross-country skiing."
Eye on the future
The combination of employment proximity and urban amenities with Shoreview's commitment to progress will keep Shoreview at the forefront of developers' future plans.
"Shoreview's entire team, from the various committees and staff to the EDA and City Council, are on the same page, making it very efficient to go from one department to the next throughout a project," said Brandsted. "We would love to do more projects in Shoreview, knowing the market will support them."