Shoreview is the Perfect Location for Companies to Onshore Now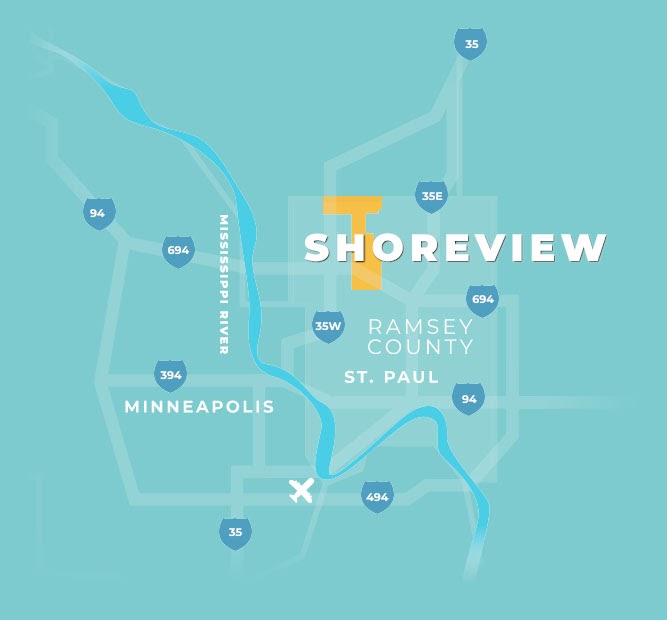 COVID-19 has changed the economics of off- versus onshoring manufacturing operations. For decades, companies have offshored manufacturing operations overseas in order to save costs. But as business executives have watched the disruptions to supply chains and product deliveries, they have begun to ask if those savings are worth the inability to supply customers and fulfil contracts. With 60% of U.S. manufacturing companies surveyed by Thomas reporting COVID-19 business disruptions, this is a widespread issue impacting virtually all industries.
Onshoring is the logical solution to reducing the risk of future disruptions and delays, at least in part. Though companies may not be looking to move their entire operations back to the United States, opening U.S. manufacturing facilities as part of their global operations certainly is. In that scenario, Shoreview certainly has a lot to offer, including a major employment center located between the Minneapolis and St. Paul metro areas in which all businesses, from startups to large corporations, will find an experienced, talented workforce. Additionally, the City of Shoreview actively seeks to be a business partner, proactively seeking creative solutions. And with the amenities that make life worth living, like open spaces, parks, lakes, and good schools, individuals and businesses want to be in Shoreview.
In addition to companies onshoring directly, 28% of suppliers surveyed reported that they are seeking domestic sources. This will create expansion opportunities for current U.S. manufacturers. Shoreview is uniquely positioned to support that growth and to be a home to growing companies, or those onshoring for the first time.
Why Companies Should Onshore in Shoreview
Available Commercial Sites
Shoreview has many available commercial sites for a range of business requirements. A 11,344 square-foot office and warehouse property for lease in the Rice Creek Business Center is one example. The property would provide an excellent corporate image with an abundant glass line, ample surface parking and monument signage available nearby I-35W and two county roads. Retail space is also plentiful, such as this 2,823 square-foot property in a larger complex that already includes Chipotle, Sports Clips, LeeAnn Chin and Five Guys. For those seeking to start from scratch, Shoreview has land available, such as a 3.43 acre lot along the Rice Creek Parkway. The property zoned for office use such as medical office space, daycare, hotel and restaurant, has frontage along I-35W and is adjacent to a 348 unit apartment complex under construction.
Location
Businesses in Shoreview enjoy the fact it is equidistant to both downtown Minneapolis and downtown St. Paul. Ramsey County is home for Shoreview, as well as St. Paul, the capital of the state. Therefore local businesses have easy access to the legislature, entertainment, major universities and the lifestyle benefits offered by the big city, while simultaneously benefiting from Shoreview's high quality of life and personalized service. Transportation advantages exist with this location as well. Two major interstate highways run through the city and air and rail travel are both about 20 minutes away, with the Minneapolis/St. Paul International Airport and the Union Depot, respectively.
Workforce
Shoreview has access to a large and talented workforce as well. More than 14,000 people work in Shoreview and are not only drawn from the Minneapolis and St. Paul areas, but from Western Wisconsin as well. The City of Shoreview has access to many resources for continuing education, such as several CareerForce centers and Ramsey County Workforce Solution, and proactively seeks to connect businesses with the tools and support they need to succeed.
Reasons to Onshore Now
COVID-19 has demonstrated the scope and scale of the impact a global pandemic can make, but it's not the only disaster that can disrupt supply chains. Environmental factors are another one. The world has suffered an increase in severe hurricanes, earthquakes, fires, etc. - all things that are unpredictable and cannot be controlled. Unfortunately, many of the same countries where U.S. companies have manufacturing operations have been hardest hit by these disasters and their infrastructure is not secure enough to withstand them. For example, the 2001 earthquake and tsunami in Japan and floods in Thailand had crippling effects on the electronics and automotive manufacturing sectors. Put simply - the global supply chain is fragile. Businesses who want to protect themselves must onshore at least part of their operations to protect their interests.
We Can Help
The process of finding a site, obtaining permits, constructing a facility, hiring and training a workforce may seem daunting. The City of Shoreview understands and we are here to help. If onshoring is part of your business protection strategy, please contact us to learn more about the assistance we can provide throughout the entire process.
Resources and Further Reading
https://www.thomasnet.com/insights/60-of-u-s-manufacturers-say-business-has-been-impacted-by-coronavirus/
https://knowledge-leader.colliers.com/bret_swango/covid-19-the-great-accelerator-of-onshoring-part-1/